Seismic Hazard Mitigation Publications
---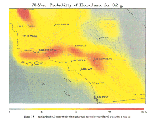 This technical report represents a major advance in our knowledge of how often shaking from earthquakes in specific areas of southern California will exceed 20% the force of gravity (strong enough to cause moderate damage). The region is divided into zones, generally parallel to known faults, and probability estimates for strong shaking are determined for each zone. The models predict 80% to 90% probability of a magnitude 7 or greater earthquake within southern California before the year 2024. (This has already been fulfilled by the 1999 Hector Mine earthquake)
This paper presents an overview of the Southern California Earthquake Center (SCEC) Phase-III effort to determine the extent to which probabilistic seismic hazard analysis (PSHA) can be improved by accounting for site effects.  
An overview of this research is presented on the Phase 3 web page.
The contributions made in this endeavor are represented in 14 papers that compose a special issue of BSSA (Vol. 90, Num. 6B) which can be ordered by calling SSA at 510-525-5474 or e-mailing janice@seismosoc.org.
---
Back to main Products and Publications page